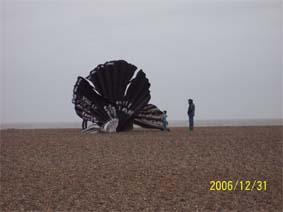 Approaching from the car park, the sculpture is dwarfed by the Suffolk landscape.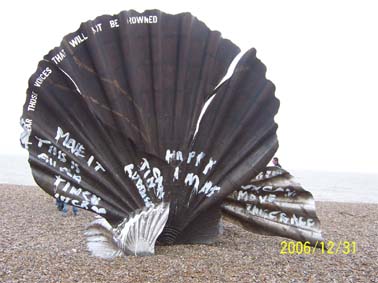 Taken on New Year's Eve 2006, the graffiti becomes clear.
But the lettering which concerns us is cut into the thick steel.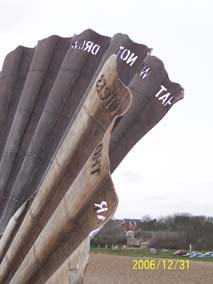 A stencil font (to retain, for example, the centre of the letter 'O') follows the ripples in the metal.
Benjamin Britten, one of the twentieth-century's most important composers, spent much of his life in
Aldeburgh
and nearby Snape. The inspiration he drew from the area is most notable in the famous 'Four Sea Interludes' from his opera Peter Grimes. The violinist Yehudi Menuhin once commented, 'If wind and water could write music, it would sound like Ben's'.
In November 2003, a striking tribute to Britten and his music was unveiled on the beach just north of Aldeburgh. Scallop, a four-metre high steel sculpture, was conceived by Suffolk-born artist Maggi Hambling, and made by Aldeburgh craftsmen Sam and Dennis Pegg. It stands near the Thorpe Road car park on the coast road between Aldeburgh and Thorpeness.
The phrase from the libretto of Britten's opera Peter Grimes: 'I hear those voices that will not be drowned' is pierced through the steel, to be read against the sky. Images of wings rising in flight, swimming fish and the ripple of waves are all suggested by the work, whose scallop forms also recall ancient symbols of pilgrimage, Venus and the sea.
Indeed, Maggi Hambling thinks of Scallop as a conversation with the sea: 'An important part of my concept is that at the centre of the sculpture, where the sound of the waves and the winds are focused, a visitor may sit and contemplate the mysterious power of the sea'.
Scallop was given to Suffolk Coastal by the artist and by the Adnams Charity, which co-ordinated the raising of funds from numerous individual donors and grant-making trusts.
The rather insignificant 'controversy' surrounding the sculpture and the repeated daubing with paint by local thugs shouldn't cloud the beauty of the structure and the multiple meanings of the quotation. Shortly after our photographs were taken the graffiti was cleaned off. If it gets daubed again, rest assured the sculpture will outlive the paint, will stand and survive in the wild weather of Aldeburgh beach.
Photographs of the grafitti-free Scallop in April 2011: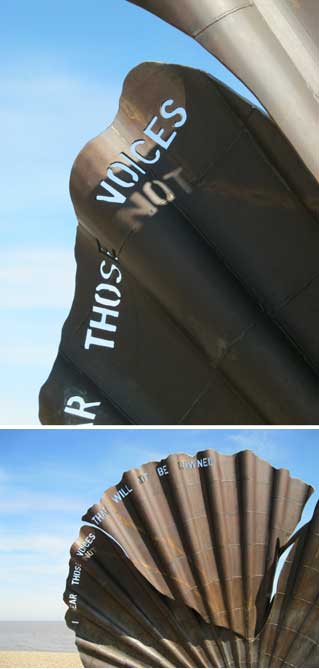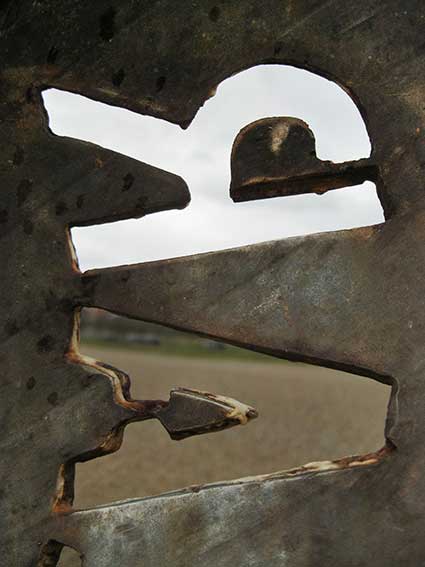 The close-up, above, shows the character and finish of the lettering – suitably rugged to survive all the weathering.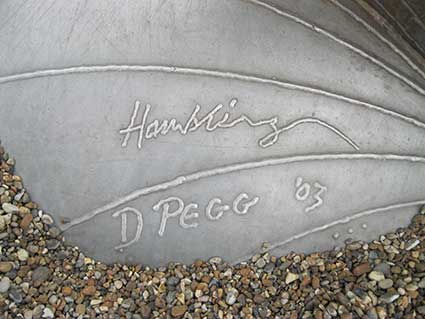 Near the base of the sculpture as it disappears into the shingle are the signatures of the artist and the metal caster 'D. Pegg '03'.