Garden railings



When the industrial revolution in this country was at its height, cast iron was the marvellous new material for structures, The Crystal Palace, home of the 1851 Great Exhbition in St James's Park, London demonstrated that classical-style columns could be made, slim and strong, out of cast iron to support mezzanine floors and roofs. Plentiful iron ore, water and coal provided the raw materials and labour was cheap. Relatively modest dwellings were adorned with cast iron gates and railings to a set of standard designs – but what designs they were. The story of how the government employed people during the Second World War to cut out many of these features, supposedly to be melted down for munitions, but probably dumped into the sea or rivers, was probably a morale-boosting scheme to convince everyone that in sacrificing their railings they were helping the war effort (see below).



Redan Street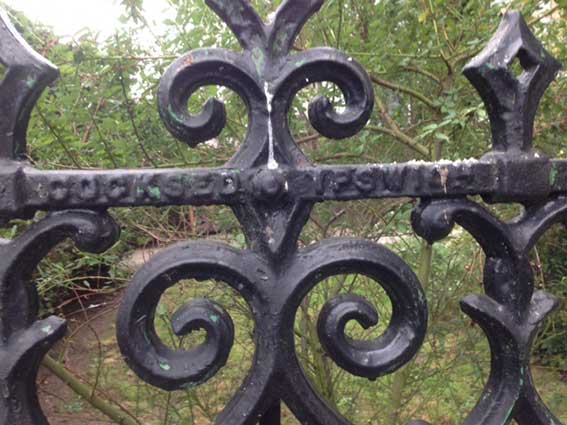 Photograph courtesy Rachel Field


[

UPDATE

7.10.2017: Above – 'We were doing some clearing in our front garden this morning and found this lettering on the iron railing between ourselves and our neighbours' garden. We assume it says 'COCKSEDGE IPSWICH' and that the railing escaped been collected in World War II. Best wishes, Rachel Field (Redan Street).'

Cocksedge foundry in Rapier Street was a successful engineering firm, like their larger neighbours, Ransomes & Rapier. However, not many traces of their name are found in Ipswich. The above solid garden railing is an excellent addition here; thanks Rachel

. Incidentally, all sorts of conspiracy theories can be found about the cutting-off and removal of cast iron railings, gates and other objects from suburban gardens during the last war. One school of thought says the iron collected was unsuitable and could not be used; this seems unlikely as recycled iron is a key component in the steel industry. Another more likely explanation is that far more iron was collected – over one millions tons by September 1944 – than was needed or could be processed. Rather than halt the collection, which had turned out to be a unifying effort for the country and of great propaganda value, the government allowed it to continue. After the war, even when raw materials were still in short supply, the widely held view is that the government did not want to reveal that the sacrifice of so much highly valued ironwork had been in vain and so it was quietly disposed of, or even buried in landfill or at sea. One story has so much ironwork dumped in the Thames estuary from barges that the metal affected navigational devices on shipping.]

Salisbury Road
After this, we increasingly became aware that there might be further examples of lettered ironwork. Salisbury Road, home of the 'J.W. How' painted sign, has several nice examples of railings dating to the building of the houses or later. More than one gate bears the words:


'COCKSEDGE IPSWICH'



and, unexpectedly, one has:


'ABBOTT CROWN ST WORKS IPSWICH'


in the casting.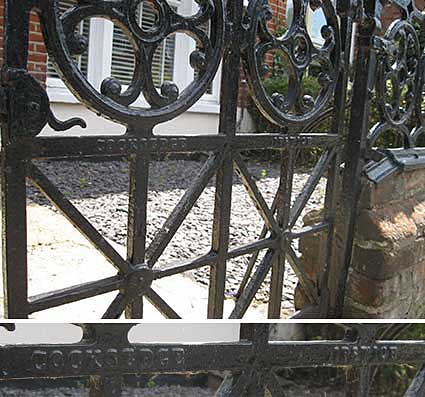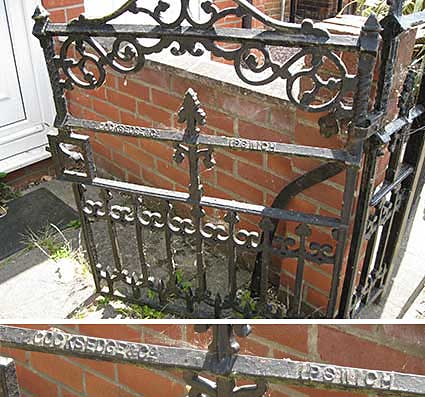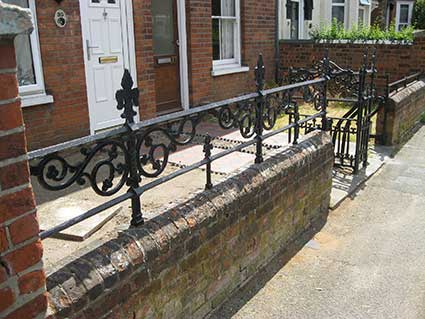 2018 images


Above: Salisbury Road – two 'Cocksedge Ipswich' named gates and some railings and gates with no obvious cast foundry name.


Cocksedge & Co.


In 1879 J. S. Cocksedge left the firm Woods, Cocksedge and Warner of Suffolk Iron Works, Stowmarket (established in 1812) to founded Cocksedge & Co. of Greyfriars Road. J. S. Cocksedge died in 1887. In 1900 new premises were opened by the compnay in Rapier Street. The company was the maker of the Gerald Gray Patent Self-Slewing Crane and this utilised two small steam engines. In 1961 they were listed as constructional and general engineers and iron founders; specialists in manufacture of sugar machinery with 600 employees.

[Information from Grace's Guide, see

Links

]


'… engineering was the largest employer [in Ipswich], both in terms of the numbers involved and in the size of the final product. Ransomes and Rapier in particular exported sizeable machines to the developing world. It is said that in the 19th Century Ipswich exported more goods than any other port in the country. It is no surprise that the industrial activities of Ipswich, with its connections by sea and rail (road transport was still horse drawn) attracted new business from rural Suffolk. One such engineer was James Samuel Cocksedge, who had been employed with Woods & Company of Stowmarket, a firm founded in 1812. Cocksedge had already sent his sons elsewhere to gain their apprenticeships (and knowledge of how other firms operated) when he decided to take an opportunity to buy a small engineering company in Grey Friars Road in Ipswich and make it his own.
The Grey Friars Road business included a small foundry, an engineering shop and a pattern shop (wooden shapes were made, pressed into green sand, removed and the depression filled with molten metal which took the same shape as the 'pattern'. Cocksedge initially employed 12 men and the business was established. The first of his sons (James Woods Arthur Cocksedge) returned from London, apprenticeship complete, to help in the family firm. Expansion was immediate and they purchased premises across the road from their original works.
When the second son, EH Cocksedge, returned from India with expertise in structural engineering (steel framed buildings) he persuaded his brother that this was the direction the company should take. This decision was the making of the firm; they spotted an opportunity, a gap in the emerging market and adapted to supply the growing demand. Structural engineering was the new method of building with larger and taller buildings pushing the known boundaries of traditional construction. Cocksedge's erected the three original steel-framed grandstands at Newmarket racecourse, a bridge on the first Colchester by-pass and the steel frames of the factory for Fisons, Packard and Prentice. They went on to become one of the region's most significant structural steel fabricators, supplying everything from single steel beams to erecting some of the largest buildings in East Anglia.
In 1903 they opened a new production facility in Rapier Street which in time became their headquarters. Their slight disadvantage with this move is that they were never as prominent in the street scene as either Ransomes' or Ransome and Rapier. The company folded in the recession of the early 1980s.' [Extract from

Ipswich Icons

, by John Norman.

EADT

, 18 Oct, 2015]


[http://www.eadt.co.uk/news/ipswich-icons-looking-back-to-a-time-when-engineering-companies-ransome-and-rapier-er-f-turner-c-mills-and-company-were-top-employers-in-town-1-4274373]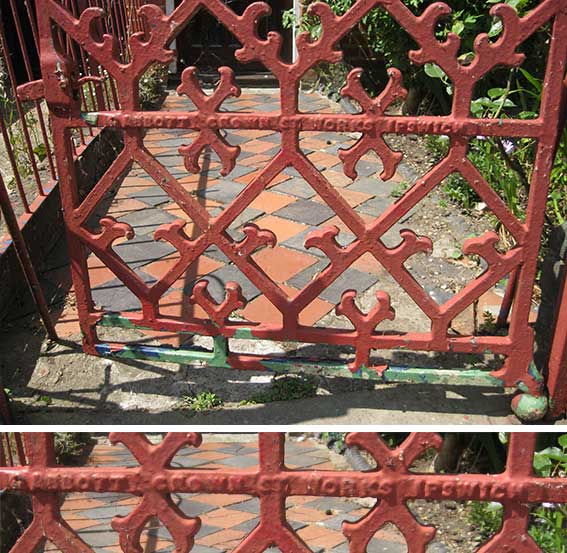 2018 images


Above: quite a surprise to see this foundry recorded on one garden gate in Salisbury Road, although we do know that Abbott's foundry in the old Temperance Hall on Crown Street did make railings for gardens (see our 'More schools' page under Argyle Street School for more information).



Mystery railings


'I wondered if you could throw some light on my terrace railings that I have recently restored. The intricate design was masked by what seemed to be a layer of hardened putty, then primer then paint. John Norman of the Ipswich Society, thought that they may have been cast at the Temperance Works at the bottom of the High Street. The Records Office, though cannot find any trace of it. I have enclosed a couple of before and after pictures. I would dearly like to find out about the company that made them. The lettering marks look to be 1862 - the house is 1857. Kind regards, Sylvia Patsilides'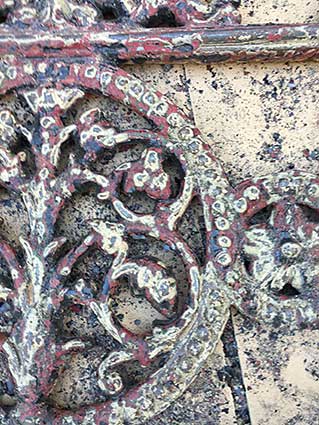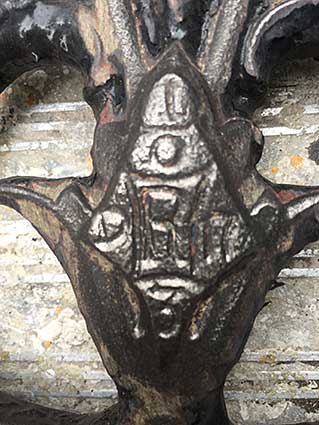 2017 photographs courtesy Sylvia Patsilides


It took us a while to make out anything like a date. In fact, we can see a figure '1' at the top and a '3' at the bottom of the boss; reading across the centre, it

might

be '1875' (very small '5'?). Unless George Abbott had a previous foundry, it seems unlikely that they were the source of Sylvia's ironwork, as they only took over the Temperance Hall – quite a change of function – in 1890 (see our More Schools page under 'Argyle Street School' for more on Geo. Abbott's foundry). The other foundry known to make railings is Cocksedge, (see above) but the dates don't marry up there either.
Sylvia continues: 'I haven't see any other railings like that in town - the nearest is the insets in the Town Hall door… and a property in Museum Street virtually opposite the Museum Street Café.'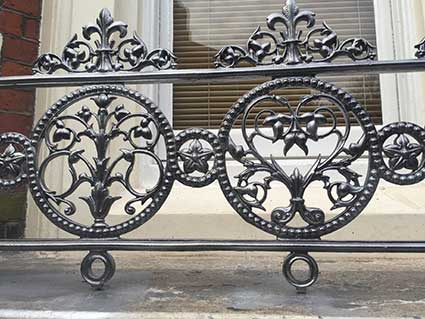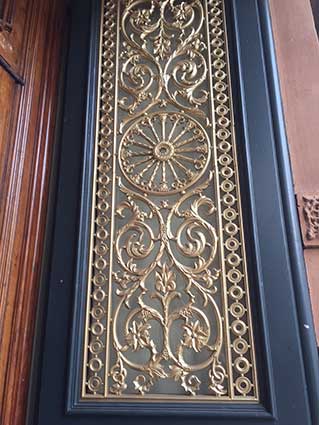 Town Hall door



Related pages:
For another example of a casting by Cocksedge, see our Dock ground level page under 'Bollards'.
For another example of railings by Geo. Abbott, see our More Schools page under 'Argyle Street School'.
See our Castings page.
See also our Street furniture page.




Please email any comments and contributions by clicking here.
©2004 Copyright throughout the Ipswich Historic Lettering site: Borin Van Loon
No reproduction of text or images without express written permission