The inscription is unclear but suggests that Ann Roe's date of death might have been 1859 (although it is listed as 1851 elsewhere).
On the opposite side, closest to the gate, we find a clearer set of characters (all traditional serifed large-and-small capitals):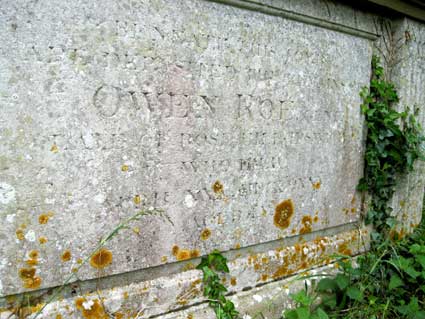 'BENEATH THIS TOMB
ARE DEPOSITED THE REMAINS OF
OWEN ROE. GENT
LATE OF ROSE HILL IPSWICH
WHO DIED
APRIL XX? MDCCCXXV
AGED LV'
Owen Roe's dates are confirmed as 1770 - 1825, so was aged 55 at his death. The appellation 'Gent' (rather than, say, 'Rev.', 'Esquire' or a noble title) indicates that Owen Roe was a gentleman farmer, presumably successful given the rather grand (and not inexpensive) nature of his final resting place. One imagines that he and his family would have been able to mix socially with the Cobbold family in Ipswich (also 'new money' gentry, their wealth being based on the successful brewing business at Cliff Quay in Ipswich). At a time when class, wealth and social status were deemed to be of great importance, this would explain how his daughter, Ann Roe, was in a position to meet her future husband, Charles Cobbold, at his mother's Valentine party in 1811.

The smaller panels at each end of the tomb are (below left):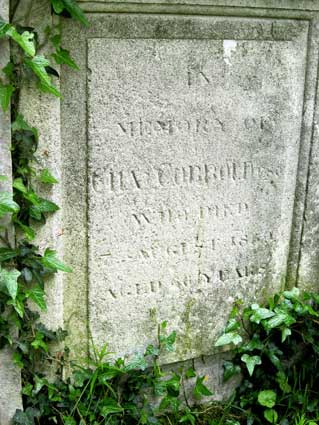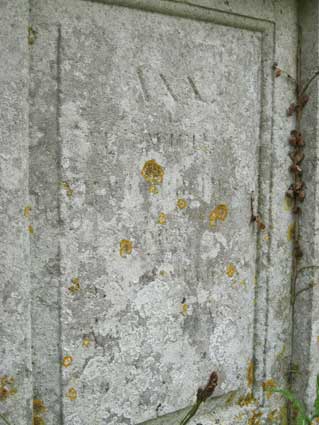 'IN
MEMORY OF
CHA
S
. COBBOLD ESQ.
WHO DIED
7? AUGUST 1859
AGED 66 YEARS'
The dates for Charles Cobbold, Ann's husband, are confirmed as 1793 - 1859, so he was aged 66 at his death. It is not entirely clear that Charles Cobbold was actually interred in the Roe tomb, merely that as Ann's husband who survived her by a few years, the inscription remembers him. We suspect that he would have been interred in a Cobbold family vault or tomb.

Above right is a far more indecipherable description, but we are sure that, at the top, we can make out the words:

'ANN
OF IPSWICH'
We learn that Ann's daughter (Georgiana Cobbold) is buried in this large tomb with her mother (formerly Ann Roe), her sister (Ann Elizabeth Roe Cobbold) and her grandfather (Owen Roe). The sequence of births and deaths shown below indicates the following: Owen Roe (d.1825), Georgiana (d.1837), Ann Elizabeth Roe Cobbold (d.1837), Charles Owen Cobbold (d. 1837), Ann Cobbold (nee Roe) (d.1851?), to which we can add Ann's husband Charles Cobbold (d. 1859). We think that is most likely that the smaller panel at the opposite end to the Chas. Cobbold Esq. inscription might include the young daughters Georgiana and Ann Elizabeth and probably their brother Charles Owen who died in India, as it is stated that there is a memorial inscription to him on this tomb.


Here is the date sequence for

Ann Roe

on the Cobbold Family History Trust website:-
? Born
1815 Married Charles COBBOLD in St Clements Church, Ipswich
1818 Birth of son Charles Owen COBBOLD
1825 Birth of daughter Ann Elizabeth Roe COBBOLD
1825 Death of father Owen ROE
1828 Birth of daughter Georgiana COBBOLD
1830 Birth of son Alan Brooksby COBBOLD
1837 Death of son Charles Owen COBBOLD
1837 Death of daughter Ann Elizabeth Roe COBBOLD
1837 Death of daughter Georgiana COBBOLD
1851 Died
[
UPDATE 12.6.12
: Anthony Cobbold writes: "It was a cruel stroke of fate which robbed them (Ann and Charles) of 3 of their 4 children in the same year, 1837. Charles Owen died in Calcutta on 4th September and was presumably buried there. Ann Elizabeth died 4th February and Georgiana 13th March. Was there a 'flu' epidemic in Ipswich that winter do you know?"
There was a
'flu pandemic which spread from China to the Phillipines, India, Russia, then Europe 1830-1833
, killing just under a million people worldwide.
]