Manningtree Station / Mistley


The Waiting Room of the traditional railway station was once a matter of pride for the staff, that is when stations were staffed. Perhaps an open coke fire in the hearth or stove in the winter, framed railway company prints of pleasant scenes one might observe from a railway carriage (pre-Beeching cuts), a map of the line or regional network, even a pot plant or vase of flowers cut from the beds beside the platform. Some stations even boasted separate facilities for gentlemen and ladies.

Manningtree Station, just inside the Essex county boundary with Suffolk, is much used by commuters these days due to ticket pricing being lower than nearby Ipswich; a huge car park has been built outside to accomodate commuters' cars (is this progress?). The station buildings are still largely intact with entrance hall, ticket office, platform canopy, very popular bar/buffet, underpass to the island platforms and so on. The waiting room has indubitably seen better days with its seating and large battered table, but the fireplace is still there and the brass fire surround boasts some lettering.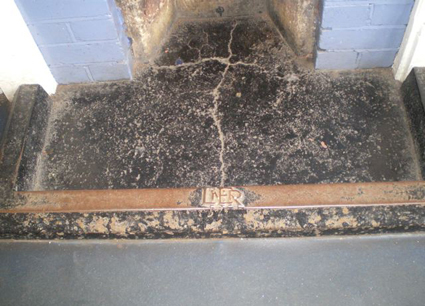 It looks as though paint has been applied in several coats over time and possibly the repeated rubbing of shoe soles has bared the logo. Perhaps they were toasting their toes. The interlaced 'LNER' stands for London & North Eastern Railway, the company which rebuilt the station.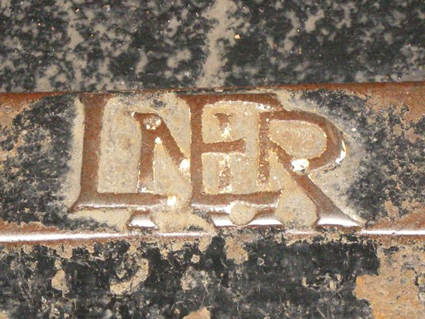 The station was originally opened by the Eastern Union Railway in 1846 but rebuilt by the Great Eastern Railway in 1899-1901 when the present main building was designed by W.N. Ashbee. Immediately east of the station there is a triangle of junctions, known as Manningtree South, North and East junctions. The main line and the branch connection from London are double track, but the north to east curve connecting Ipswich with Harwich is single track. Boat trains run from both directions into Harwich Parkeston Quay Station timed to connect with sailings.

Leaving the railway and heading down Station Street for Manningtree itself, one of the first buildings one passes is Skinners (presumably formerly The Skinner Arms) we find another of the stray 'TOLLY COBBOLD' signs which crop up around the Ipswich area. And this one is the furthest away from the brewery that we know of (albeit it's been obliterated by black paint). For more Tolly signs see Hadleigh, Needham Market and Old Felixstowe. See also the Pubs & Off-licences page and the Tolly Cobbold House & Brewery pages.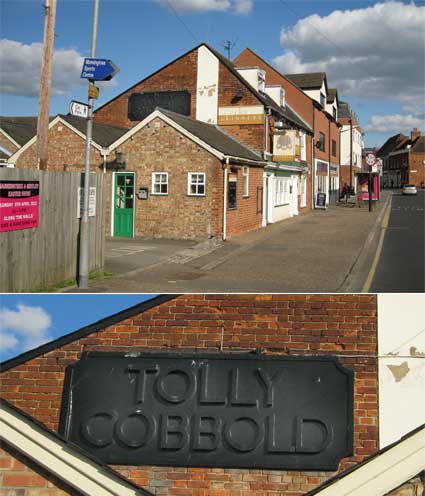 While we're in the area, we found this down the road (and river) at Mistley Place Park Animal Rescue Centre: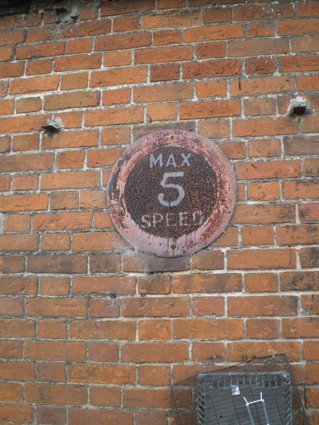 'MAX
5
SPEED'


This rusty disk cried out to be included on this website.

As well as our Ipswich pages, there is a page for Colchester, the next station down the line towards London.