For information on Rosehill Library in nearby Tomline Road and the story of the area see our
Rosehill case study
page. For information on the churches in the area, see our
Rosehill churches page
.
Upper Cavendish Road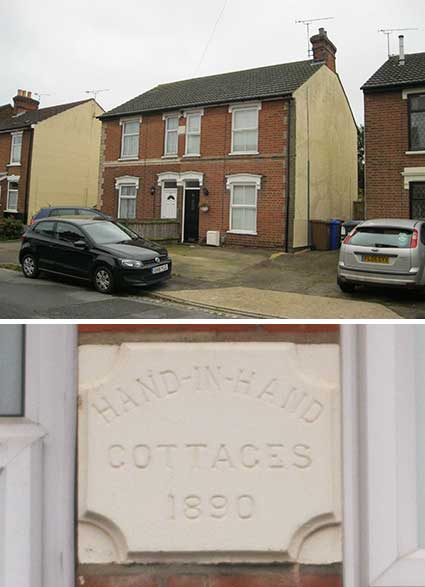 2016 images
58-60 Upper Cavendish Road
'HAND-IN-HAND
COTTAGES
1890'

The missing name plaque
On the subject of house name plaques, it is worthy of note that every now and then we come across a house frontage where an owner (or perhaps both owners) have removed the stone tablet from the fabric of the front of the building and infilled with matching brick. To go to such expense and trouble suggests that they must have taken great exception to the house name. One such example is at 17-19 Upper Cavendish Street.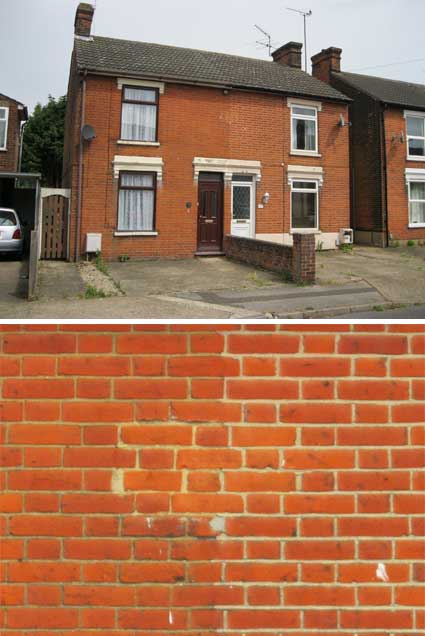 York Road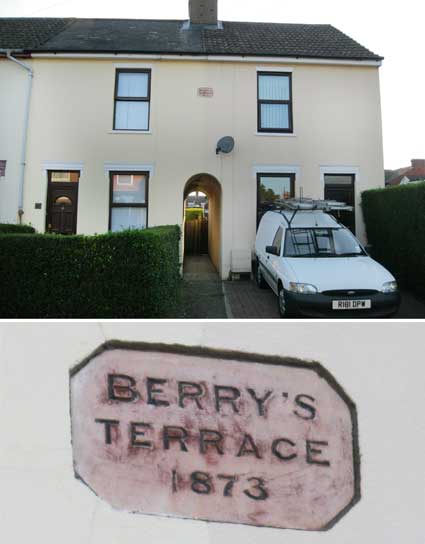 61-63 York Road.
'BERRY'S
TERRACE
1873'

Alexander Berry (1781-1873) was a Scottish-born surgeon, merchant and explorer and one of the founders of the state of New South Wales, died in Sydney Australia on 17 September 1873. In 1822 he was given a land grant of 10,000 acres and 100 convicts to establish the first European settlement on the south coast of New South Wales, Australia. There are no known links to Ipswich or Suffolk, but it is likely that the death of a notable person in the news gave rise to this naming.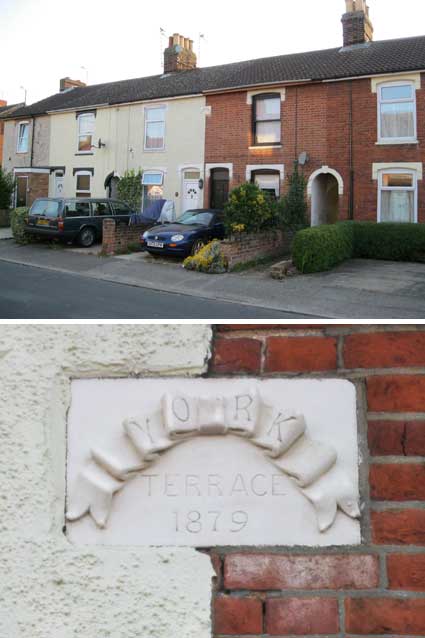 11-13 York Road.
'YORK
TERRACE
1879'

Queen Victoria's second grandson, George Ernest Frederick Albert (1865-1936), became Duke of York on 24 May 1892, became King George V in 1910 and remained so through the First World War until his death on 20 January 1936. George was only 17 months younger than Albert Victor, and the two princes were educated together. in September 1877, when George was twelve years old, both brothers joined the cadet training ship HMS Britannia at Dartmouth, Devon. For three years from 1879, the royal brothers served on HMS Bacchante, accompanied by their tutor, John Neale Dalton. Whether any of this was in the mind of the house-namer here, we cannot know, but the unusual 'tied-up-with-a-bow' pleated scroll on this name plaque compares with
Percy Cottages
and
Clarence House
.
Newton Road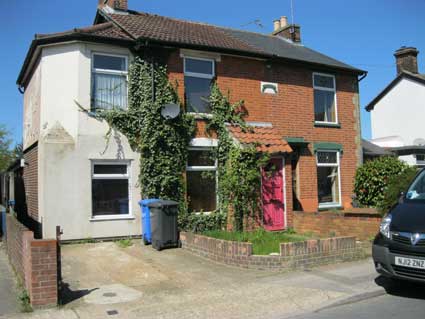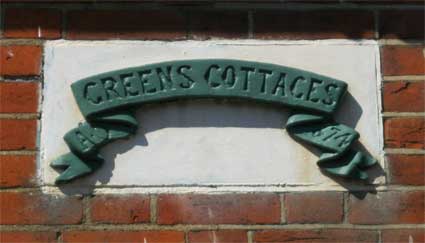 2013 images
80 Newton Road.
'GREENS COTTAGES
A
.
D ... 1874'
... the scroll with the waggly tails.
See our list of occupants of no. 170 Newton Road ('E. Markham:
County Supply Stores
') for mention of the source of this house name from 1904.
Foxhall Road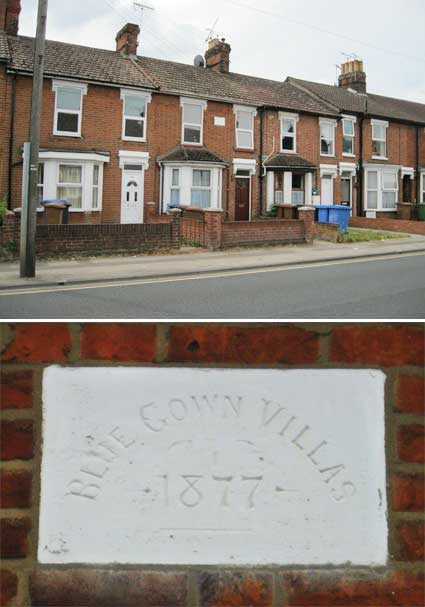 2013 images
142 Foxhall Road is part of a Victorian terrace with the most intriguing name in a decorative script:
'BLUE GOWN VILLAS
1877'
The delight of apparently insignificant historical detail is the question it poses.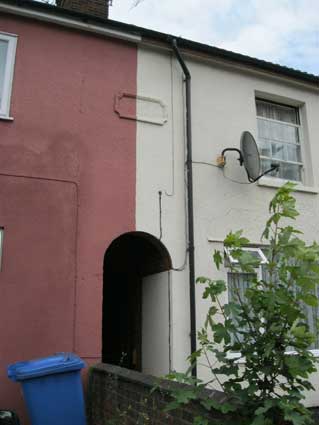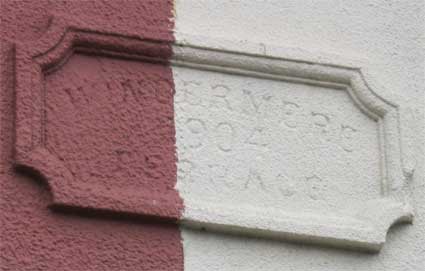 'WINDERMERE
1904
TERRACE'
Above the alleyway between 137 and 139 Foxhall Road. In their peerless work
The doughnut in Granny's greenhouse
by The Bonzo Dog Doo-Dah Band lead singer and trumpeter Vivian Stanshall intones the swingin' number My pink half of the drainpipe. The images recall that portrait of suburban life. The roughcast spattered all over the name plaque cartouche hasn't quite obliterated the lettering.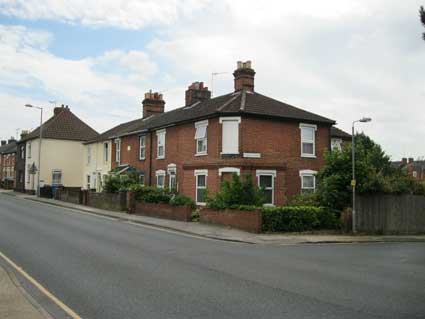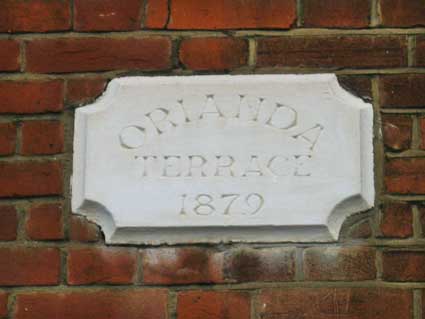 On 174 Foxhall Road can be found another cartouche with the finely chiselled lettering:
'ORIANDA TERRACE
1879'
Orianda is a resort town on the southern shores of the Crimea, a peninsula of Ukraine located on the northern coast of the Black Sea. The Crimean War ran from October 1853 – February 1856 so the name of this building may relate to that.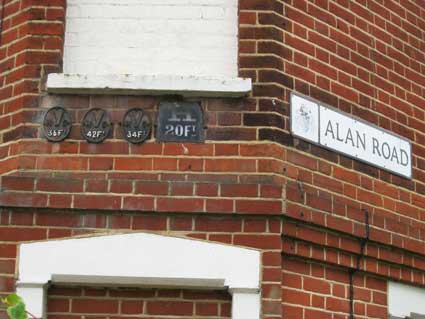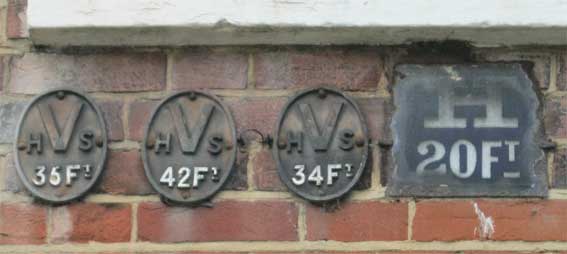 170 Foxhall Road is at one end of Orianda Terrace, on the corner with Alan Road (see
Street name derivations
for a link to the Cobbold dynasty). This building used to be a greengrocery shop with its doorway on the 45 degree angled corner. A sign was painted in the blank window above. Between the two the owner has fixed his collection of hydrant signs. They indicate the position of valves on the water mains and are of late nineteenth or twentieth century date and other examples used to visible in
Bridge Street
. The enamelled hydrant sign on the right is similar to that seen in
Soane Street
.
That Alan Road street nameplate (above) can be contrasted with the sign on the corner of Cavendish Street, as spotted by Simon Bole (21.1.2016):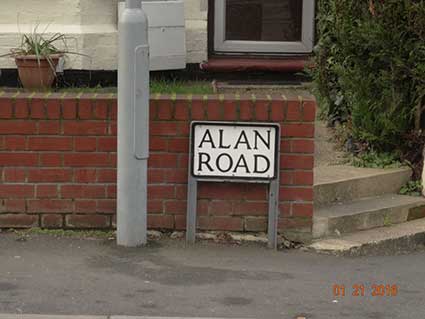 2016 image
"I really enjoyed the talk last night, it made me realise that I am not alone in admiring what amounts to 'street furniture'. I had seen your website in advance of the talk and found both fascinating... Alan Road: The street nameplate at the corner of Cavendish St is at low level on the back edge of the footpath rather than on the house. More quirkily the word 'Alan' is positioned above 'Road'. I attach a photo. Simon B."
Perfect spacing of the two words – thanks, Simon.
See
Margaret Hancock's research
on the origins of the Rosehill Estate and the derivation of the name 'Alan Road'.
Further up Foxhall Road on the corner with Newton Road is 'TENNYSON HOUSE 1892' with the name plaque at the centre of the side gable on Newton Road, rather than above the front door (see Clement Cottages, above). Alfred Tennyson, 1st Baron Tennyson, FRS (1809 – 1892) was Poet Laureate of Great Britain and Ireland during much of Queen Victoria's reign and this tablet commemorates the year of his death.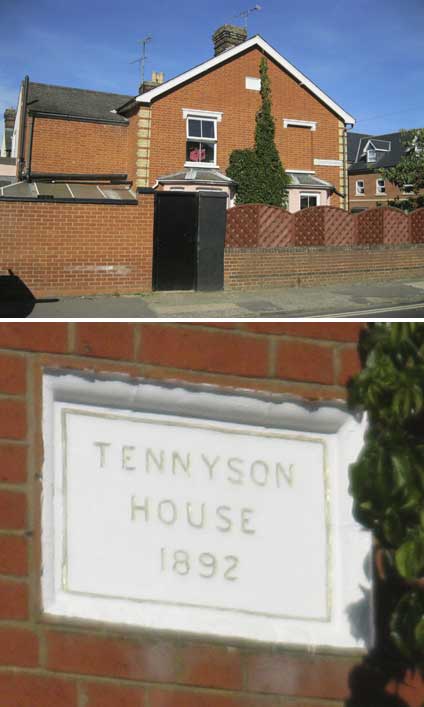 Derby Road
A row of houses on the east side of the road leading up to the '
Family Grocer
' lettering displays some unexpected house names. Sydney Cottages are at nos. 79-81.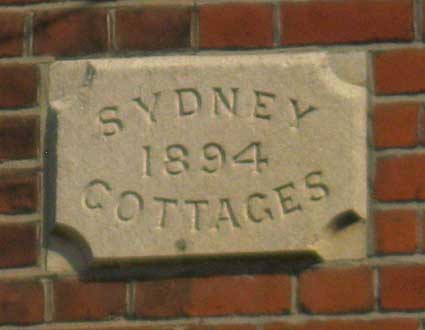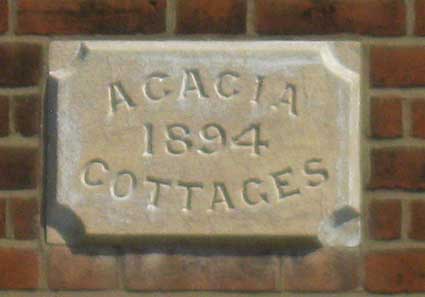 2013 images
'SYDNEY
1894
COTTAGES'

'ACACIA
1894
COTTAGES'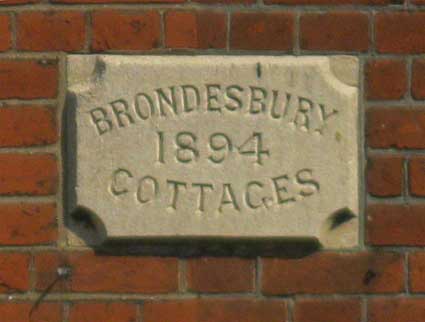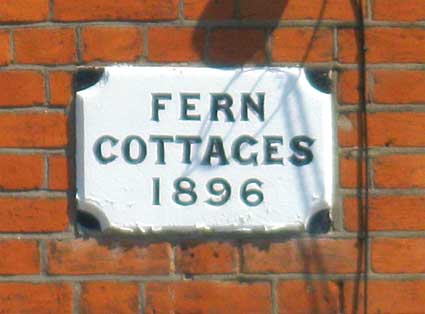 'BRONDESBURY
1894
COTTAGES'
Between nos 83-85: 'Acacia' (a thorny tree originating in Africa and Australia: a few species are widely grown as ornamentals in gardens, the most popular perhaps is Acacia dealbata – silver wattle) and Fern Cottages (nos. 91-93) we find the curve ball of 'Brondesbury Cottages' (nos. 87-89). Brondesbury is an area of Kilburn in London. It is shared between the boroughs of Brent and Camden. Brondesbury College is an Islamic private school in Queen's Park, London. There is Brondesbury Cricket Club and the name is even applied to two rail stations. When searching for house and road names, it seems that existing place names are often applied; presumably, the more obscure the better.

'FERN COTTAGES
1896'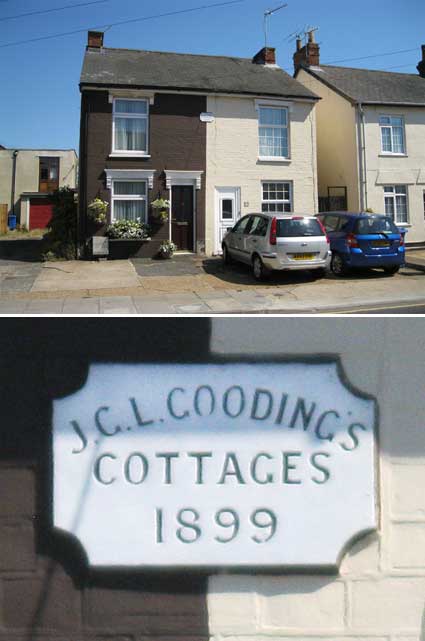 'J.G.L. GOODING'S
COTTAGES
1899'

Rather frustratingly, we have been unable to find the man (it usually is a man) whose name is commemorated on this cartouche at 97-99 Derby Road. Gooding is certainly a local name (including Thomas Gooding who built
Freston Tower
in 1578/9) and there are still many of that name listed locally. It is most probable that Mr J.G.L. Gooding was the local builder who built these two houses, perhaps to live in himself and/or rent out.
[
UPDATE
29.3.2016: 'Just spent a happy half hour having a look into above. Not guaranteed but I suspect JGL Gooding was owner/landlord of Royal Oak.
Plots of land fronting Derby Road were included on FLS Felixstowe Road Estate No 4 offered to its members in July 1889 as "the final portion of the Estate of 74 acres situate on the Felixstowe and Derby Roads and which has proved... to be one of the most successful ever dealt with by the Society". This ballot notice (IRO Ref:Gf419/FLS1849/3/1/1/64) also lists the other portions of the Estate balloted in earlier years. Roughly speaking the 74 acres covered the section of Felixstowe Road from Derby Road to the west side of the present Bixley Road.
FLS Felixstowe Road Estate No 4 was balloted in 3 portions:
1st Ballot - Stanley House (which has recently been thoroughly repaired), with Yard, Stables, Sheds & Gardens situate at the corner of Felixstowe and Derby Roads
2nd Ballot - Six Houses with an acre of land to each on the Felixstowe Road and Two Houses with 130 rods of land to each on the Derby Road
3rd Ballot - Fifteen most eligible Plots of Building Land with frontages on the Derby Road.
Plot 15 was adjacent to Stanley House and a purchase contract dated 21st August 1889 (IRO Ref GF419/FLS1849/3/1/11/2) reveals that it was originally balloted to James Durham but his name is crossed through & the name J Gooding, Royal Oak inserted. The price of the plot was £49.
Hope you find this as interesting as I do!! Margaret.'
We are very grateful to the official archivist of Ipswich Building Society for this information from their records.
]