Street nameplates



This page gathers together examples of street nameplates in Ipswich, linked to other pages on the site. We include modern signs where the street name is of historical interest and older signs which carry some of their history in their appearance.
See also Street nameplates on posts.
The Ipswich Transport Museum has a nice collection of street nameplates.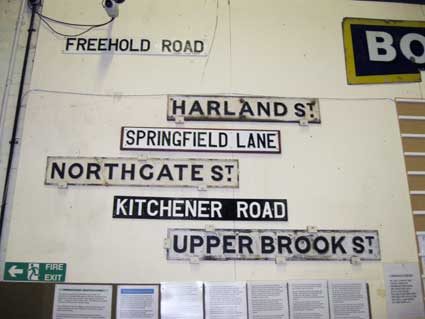 See also our Lettered castings index page.

Related pages:
House name plaque examples: Alston Road; Bramford Road; Cauldwell Hall Road; Cavendish Street; Marlborough Road; Rosehill area;
Ipswich & Suffolk Freehold Land Society (F.L.S.); California
Street index; Origins of street names in Ipswich; Streets named after slavery abolitionists.
Dated buildings list; Dated buildings examples;
Named buildings list; Named (& sometimes dated) buildings examples.
Brickyards




Please email any comments and contributions by clicking here.
©2004 Copyright throughout the Ipswich Historic Lettering site: Borin Van Loon
No reproduction of text or images without express written permission