Introduction (updates at foot of page)



This project revolves around humanity's constant need to define and promote itself through signs. The publicly visible lettering on buildings and structures in a busy port, market and industrial town like Ipswich has been used for decades to communicate with the passer-by. This practice can probably be dated to the beginning of the Industrial Revolution in Britain (around 1750 – see our Timelines page for common historical terms)), when the rise of capitalism resulted in the need by industrialists and businessmen to advertise, self-promote and proclaim commercial power. Large building projects and structures such as tall chimneys and bridges provided the canvass for this trade lettering.

The twenty-first century sees us facing more and more invasive ways of advertising brands and services, particularly given the impecunious nature of public services and their desire to obtain sponsorship from commerce in order to save money wherever possible*. This current climate of 'private/public partnership' is a world away from that prevailing a hundred or so years ago when corporations, tradespeople, factories, businesses and all sorts of private individuals marked their existence with the aid of signwriting and public lettering. [*Not that we would ever encounter that sort of problem with advertisements on the Internet...] For an insight into the genesis of this website, see our Symonds For Kodaks page.



A photographic comparison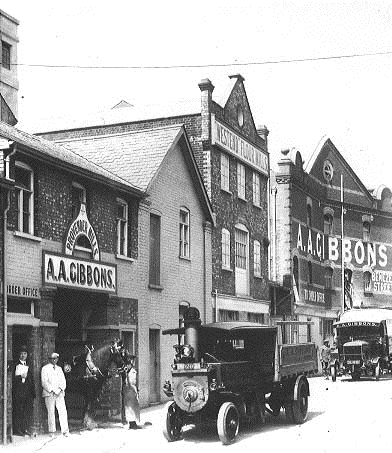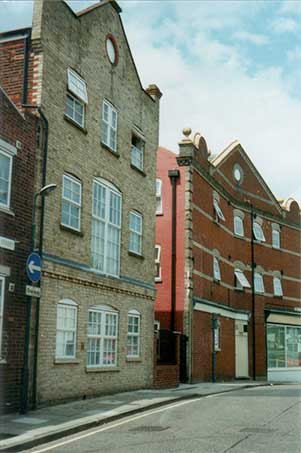 2001 image


The photograph (above) of the upper end of Benezet Street demonstrates the use of bolt-on and painted signs by a flourishing flour-milling business, Provender Mills and West End Mills owned by A.A. Gibbons. Alfred Alexander Gibbons set up his corn business in Benezet Street in the 1880s, the monochrome photograph having been taken in the 1920s. The far building with its angled Paladian frontage is adorned with three sets of painted lettering: the owner's name, the street name (close to the corner with Bramford Road) and the smaller 'To Order Office' directing customers down the road. Although a fairly narrow street, the proprietor clearly saw the need to stamp his name clearly on the far building which would have been partially visible by those passing on Bramford Road. The colour photograph taken from a similar position in 2001 (the nearest buldings have been reshaped or demolished) shows a typical modern approach to the utilisation of industrial buildings as attractive office and accomodation spaces. The brick-cleaning companies have been in, frontages repaired, windows and features altered and all signs have been removed.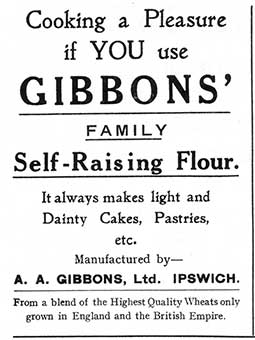 1934 advertisement


The above advertisement comes from "The Myrtle", the Ipswich (Museum Street) Methodist Church Magazine, August 1934. Other advertisements from this publication can be found on our Woottons hairdresser in Tavern Street and Scarborow opticians in Dial Lane. Thanks to John Barbrook for the publication.

One of the finest expositions of the signwriters art must surely have been that shown below: a veritable symphony of signs!


At the corner of Fonnereau Road and Crown Street (demolished for road-widening), here is E.R. George's bakery in 1911. Reading from the left:-
'BAKE OFFICE' (above the hand cart – see our images of Felaw Street Bake Office for an explanation of this term),
'E.R. GEORGE: BAKER & PASTRYCOOK' (caps with white drop shadow; repeated on the Fonnereau Road elevation),
'NOTED FOR PURE WHOLE MEAL BREAD' (in a blind window),
'PARK BAKERY' (in a blind window, with curlicues above and below),
repeat of main sign,
unreadable lettering in bricked up window (probably the proprietor's name and trade repeated),
'REFRESHMENT ROOM' (behind the 'TEA ROOM' sign),
not to mention all the advertisements and posters including an OXO sign, plus the lettering on the shop window glass and 'TEAS' above the corner door.

The blank wall beside the premises has been colonised by bill-posters. In those somewhat gloomy times such colourful, graphic, printed matter might have ben welcome and it is only in recent decades that Ipswich Borough Council has taken a stance on the proliferation of billboards and advertisments in public places. The environment now is radically different and once the billboards were removed from many sites in the 1980s (thanks, in part, to the lobbying of The Ipswich Society), new views into formerly hidden areas and spaces were revealed.

Another striking exercise in trade lettering adorned the angled side wall of number 46 Norwich Road (now the Maharani Indian Restuarant which still has an interior illustrated ceramic wall showing people and dogs on a shoot, which was behind the original shop's game counter, the sister mural - perhaps showing fishing? - having been demolished by the builders during conversion to a restaurant before it was spotted by a conservation officer). This wall is seen by people coming from the town and it originally bore the lettering:-


'W. RUSH
WEST END
FISH, GAME
& POULTRY MART
ICE IMPORTER'


but is long gone. A photograph inside the restaurant shows the shop with its meat and game hanging over and around the entrance and this sign proudly displayed (we would guess from early part of the 20th century). See our Collage of Lost Signs for an image.

---
A collaborative resource


The main feature of this website is to attempt to provide an authoritative commentary and amass historical detail by a collaborative process. If some of the text is misleading or just plain wrong, we want to hear about it and correct it, so that the site grows as a resource of historical public lettering and the local history of Ipswich. We are particularly keen to hear from residents who recall the streets, businesses and features depicted in the galleries; also the types of trades involved, anecdotes about the areas and people of Ipswich.
Please email any comments and contributions by clicking here.

Attribution
We aim to credit or provide attribution to images used on the site which are not photographed by us. If you are able to help us with information about a source or copyright relating to a particular image, please email us.

---
The technical side of lettering


We hope to research this more thoroughly with commercial signwriters in the future.

Suffice to say that the art and craft of signwriting is, perhaps, a dying one. The use of ladders, scaffold, mall-stick and signwriter's brushes and paints to create a sign on a wall is far more challenging than that done on a removable board which can be created in a workshop and fixed in place (the latter being intrinsically temporary). This is particulary true of the more out of the way sites such as the chimney stack above the former Symonds Chemists Shop in Upper Brook Street.

Today, more and more flashy effects can be achieved by the use of plastics and metals in sign-making, noy to mention laser projection: rather different activities. The emphasis throughout this site is on painted lettering, principally on brickwork and rendered surfaces which tend to stand the test of time. There are also examples of lettering incised into the fabric of buildings such as at the top of the frontage of the Bethesda Church, St Margarets Street, or lettering built out in relief on a surface, for example The Unicorn in Tacket Street or The Central Livery and Bait Stables in Princes Street.

There are therefore implications in this project for design and architecture, too. Not to mention the practical problems of painting onto a porous surface where the lettering is intended to last for years. The examples of painted signs for local businesses such as Elliott Street Bakery - a remarkable survivor - show how a number of versions are overpainted as the years pass and fashions change; then weathering and degrading of the paint surface result in the earlier lettering becoming visible. This is the very embodiment of social history in a very humble and largely forgotten feature of the town.

Inclusions and exclusions
Although we have not adhered to strict rules about inclusions and exclusions, the examples photographed must exhibit some age and durability since their original creation. The signs on Church's Restaurant in Hatton Court and pubs such as the Milestone (formerly the The Beer HouseMulberry Tree, Mulberrys) in Woodbridge Road and the County Hotel in St Helens Street have all the appearance of period lettering, yet have been painted only recently. This false 'olde worlde' approach to public lettering has its interest, but falls outside our brief.

The Grand Old Duke of York on the corner of Woodbridge Road and Warwick Road brings to mind those lettering examples which we have lost. That particular pub boasted some rather fine frosted glass decoration in its former incarnation. It is to be hoped that when Adnams, the Southwold brewers, refurbished the premises they preserved the wonderful door to the left of the frontage which led to a corridor and short 'private' part of the bar for off-sales; the door bore the frosted word: 'Jugs'. Hales Chemists in St Helens Street (opposite the Regent) was in business for many years and was only closed down with the opening of a chemist's shop within the Orchard Street Health Centre nearby. The lost lettering proclaiming the business name in black and white mosaic on the entrance doorstep was only spotted by chance and was soon obliterated with dark grey paint by the new owners: a bespoke tailors. The wear and tear caused by shoes and boots have continued the erosion already visible on the step and finally revealed the lettering once more.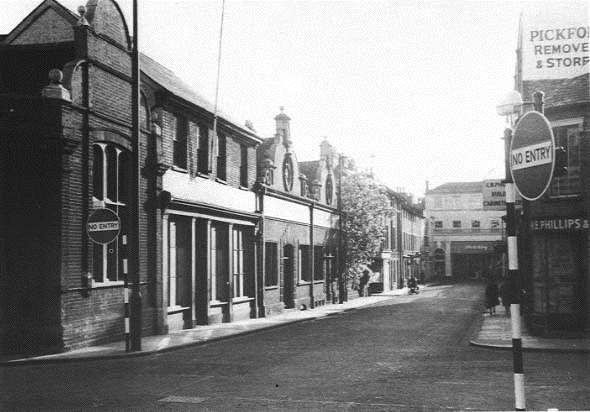 The above 1960s photograph of Great Colman Street from the corner of Old Foundry Road by Jim Lewcock shows a rake of buildings on the left long demolished to make way for the Social Security block and Carr Precinct, since superceded by the QD development. At this time, the rather attractive frontage housed Rands & Jeckyl, the tent makers, and the small street about half way down, Little Colman Street (now an access to a ramp leading to upper parking), cut through to Carr Street. The facing building at the end of the road (itself in Northgate Street) has been an Assembly Rooms, the girls' public school (which moved to Westerfield Road, then to Wolverstone Hall), Egertons motor engineering works , Sketchley dry cleaners (we think it's the company name on the building's frontage above), Mortem's stationers and The Chicago Rock Cafe (and other night clubs). The part of the photograph which drew our attention, though, is the end wall of the stores to the upper right. Until recently this was Websters office furnishers, stores and auction rooms and presumably that company was responsible for the obliteration with white paint of the earlier tenants: 'Pickfords Removers and Storers'. The great white panel, just made for advertising lettering, was still there until recently, albeit somewhat flaking and discoloured. As of 2005, the Websters building has been demolished for housing redevelopment.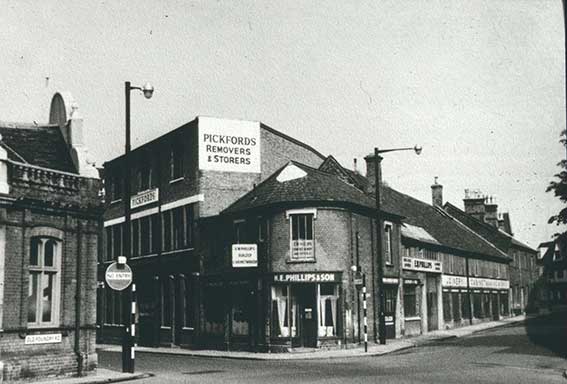 Photograph courtesy the Ipswich Society Image Archive


[

UPDATE

18.12.2017: John Norman passes on this alternative view of the junction showing the full Pickfords sign. The original photogrpah was by Peter Underwood.]

All the time, we are in danger of losing these historic examples of lettering. Since starting this website we have lost John Good and Sons (G.C.B.) Ltd on the Wet Dock, where the Waterfront Regeneration Scheme has removed several examples. Abrasive brick-cleaning, overpainting with a textured masonry paint, rendering over with cement or rough-cast all threaten to obliterate our history. It is intriguing to contemplate what might eventually happen when such sufaces weather and crumble. If the buildings stand for long enough will they once more yield up their secrets, covered up and (one hopes) protected for so long? There are sites where the enthusiastic use of a red brick paint to cover lettering has followed the contours of the characters rather too slavishly and with the passage of time, only serve to make them readable again. The R. & W. Paul maltings at the rail station end of Princes Street (formerly Hollywood / Kartouche / Zest night club etc.) is a fine example.

We have tended to shun signs and characters which are fixed to walls and favour those painted onto them. However, there are road and street signs (which carry their own unique history) and other exceptions where they carry the weight of the past. We have a limited selection of eccelesiastical lettering as the many churches in the town have grave stones and memorials, as well as architectural lettering which are all strictly speaking 'public' and which are a subject in themselves.

The original 'gif ' images on this site sometimes lack definition so since 2005 we have replaced most with 'jpeg' files. We have tried to provide close-ups and enhanced images where it is useful to the browser.

[UPDATE 25.10.04: Borin Van Loon gave a talk on this website project to the annual Recorders' Day in October, 2004 organised by Suffolk Local History Council which exists to encourage, promote and assist the study and research of local history in the county of Suffolk. We hope for much feedback from this source, so that we can fill in many of the gaps on the site. They proved a receptive, knowledgeable and enthusiastic audience; it was good to share some of the images and the thinking behind the website with them.]
[UPDATE 15.11.06: We have ditched the Guestbook from the Homepage due to endless spamming. Also citations to published books in the text have been gathered together in a Reading List.]
[UPDATE 17.9.09: A major change! The imminent demise of our web host, Geocities, has led us to sign up for a paid service and get ourselves a domain name - http://ipswich-lettering.org/. This has led to an overhaul of all pages and the bringing into the site the pages which use to be on a separate Geocities site covering vestigial lettering and examples from outside Ipswich. All links within the site are now being checked and we can then start on the back-log of material we've accumulated in the last year or so.]
[UPDATE 8.1.10: Addition of new pages with contributions from enthusiasts (very gratifying), revision of old pages, constant checking and remaking of links and more to come. Now that we don't have to worry too much about shortage of memory at the server end, we're minded to revisit some of the old, rather clunky gif images on the sight and create better resolution ones to enhance lettering and context. Work continues...]


[UPDATE 1.3.2012:

A round-up over the last two or three years. New features on this website are being added to increase the ease of access. The Pubs & Off-licences page draws together scattered examples from licensed premises. These We Have Lost documents notable historic lettering examples which no longer exist in our town - we were heartened to find that, contrary to our perception, there weren't too many of these. We hope to make more themed pages in the future. We are constantly adding to and expanding our Ipswich Street Names page to show derivations of nomenclatures. The introduction of our Street Index is designed to give easy access to material when browsers know the location of a particular piece of lettering. The replacement of old - often rather nasty - 'gif' format images with more attractive digital 'jpegs' continues and improves the visual appeal of our pages. Reluctantly, a few years ago we could resist no longer and introduced pages for places in Suffolk outside Ipswich (such a big subject!), but now we have pages from all over England and even France and Canada, Contributions of information, reminiscences and images, corrections etc. are always welcome: Contact us.]
[

UPDATE April 2012

: (one we forgot to include last year). We are pleased and honoured that

The Ipswich Society Newsletter

featured our website in a short review in the April 2011 issue.]
We have included a page of timelines on the site to act as an

aide-memoir

of periods in history and of English monarchs.


[UPDATE

February 2013. This website features in a full page article on Ipswich Ghost Signs (EADT 9 February 2013). Lots of images provided by us.]


[UPDATE

December 2013: A talk about this website by Borin Van Loon: Wednesday 18 December 2013, 7.30pm:

'Historic trade signs in Ipswich'

to the Ipswich Society (see Links) at Museum Street Methodist Church Ipswich.]
[

UPDATE

24.12.2013: We are pleased to include Paul Horne's research and images concerning Boundary markers in and around Ipswich.]
[

UPDATE

8 May 2014: A second talk by Borin, this time to the Ipswich Arts Association (see Links) on 'Street letters', emphasis on lettering from streets and houses. Very nice to meet old and new friends of this website at these events. Well-received by a good-sized audience, despite the heavy rain.]
[

UPDATE

13.9.2014: Borin created a display of over thirty images from this website for the Ipswich Maritime Trust (see Links) exhibition in the Custom House on Heritage Open Weekend organised by the Ipswich Society on 13-14 September 2014:]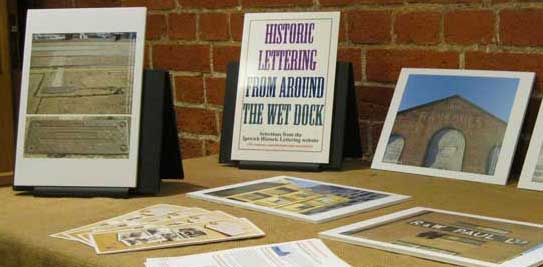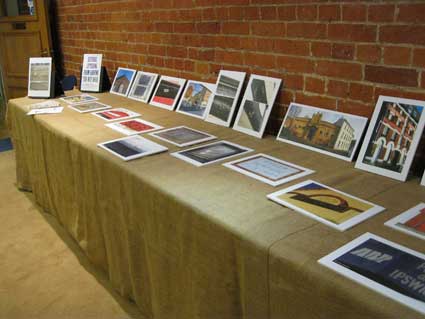 [

UPDATE

25.10.2015: After a brief period when we fell off the web, this website is now hosted by BigWetFish in Ireland and we hope that we'll be available, not to mention stable, for a long time to come. With the inaccessibility of the Yahoo server (Wisconsin), we have lots of updates from June onwards. As we work through these, check all images and links (yes, hundreds of 'em) and add new pages, we feel that we're getting back on track. Tell your friends: we're now at

www.ipswich-lettering.co.uk

.
[

UPDATE

January 2018: over the past couple of years Borin has given several talks about this website to a variety of groups. Meanwhile the site continues to grow and develop in response to the kind interest and contributions from web-browsers all over the world. Who'd have thought that a little project on old, faded trade signs in Ipswich in June 2003 would have become so extensive. Keep 'em coming.]

Look out for:
House name plaque examples: Alston Road; Bramford Road; Cauldwell Hall Road; Cavendish Street; Marlborough Road; Rosehill area;
Ipswich & Suffolk Freehold Land Society (F.L.S.); California;
Street index; Origins of street names in Ipswich; Streets named after slavery abolitionists;
Dated buildings list; Dated buildings examples;
Named buildings list; Named (& sometimes dated) buildings examples;
Street nameplate examples; Brickyards; Ropewalks in Ipswich
Monasteries in Ipswich; Boundary markers;
Historic maps of Ipswich
Water in Ipswich


Ipswich Tomorrow

, 1960s



Home

Please email any comments and contributions by clicking here.
©2004 Copyright throughout the Ipswich Historic Lettering site: Borin Van Loon
No reproduction of text or images without express written permission