Mutual House, 2 Princes Street/King Street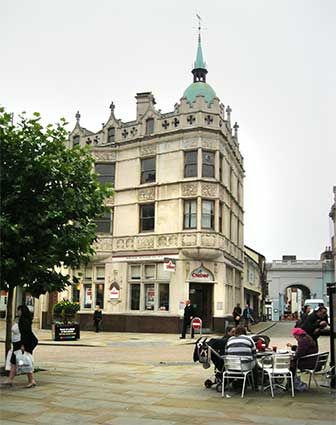 Above: the view from close to the
Giles statue
. Thomas W. Cotman, nephew of the famous watercolourist, John Sell Cotman, was the architect of the Parr's Bank (later Chelsea Building Society and, in 2017, refurbished as a new town branch of Ipswich Building Society) at the corner of King Street and Princes Street. His other stone-faced buildings in Ipswich include
The Crown and Anchor
, Lloyds banking house on
Cornhill
and the heavily decorated and dated '1905' building at
40-42 Museum Street
. Mutual House adjoins
The Swan tavern
in
King Street
(as shown in the first photograph). "The style is a sort of c16 French Gothic, similar to the Crown & Anchor, Westgate Street, faced in stone. Four storeys. Two-storey oriels (one on the corner, with copper dome and spirelet) and friezes of decorative panels. Parapet pierced with quatrefoils and broken by gabled dormers with pinnacles." [Bettley/Pevsner – see
Reading list
]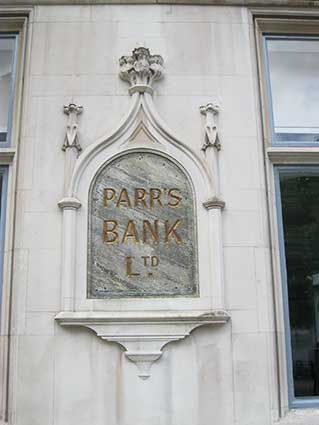 2015 images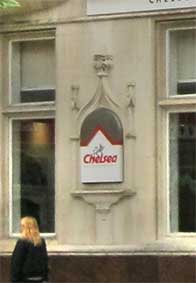 Above: one feature not mentioned is (on the Princes Street facade) the gold, chiselled lettering within a kind of Gothic cartouche in relief stonework;
'PARR'S
BANK
LTD.'

Very grand. The small image above shows that this lettering was covered for some years by a Chelsea Building Society sign.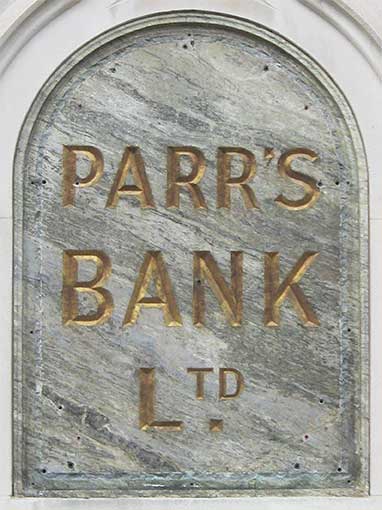 The veining of the blue-grey mineral panel is a perfect setting for the gold-painted chisel capitals, despite the damage caused by the fixing of a covering sign (a range of drill-holes).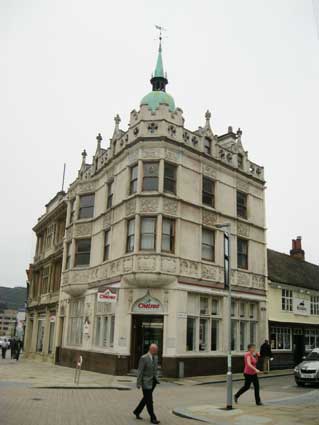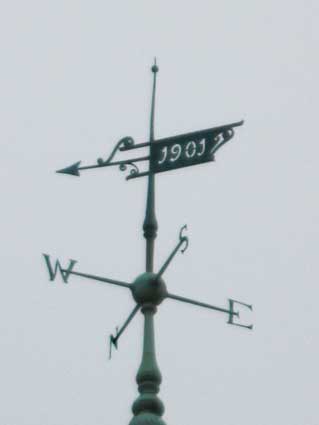 It was only in 2014 that we noticed a pierced date on the stylish weather vane:
'1901'

in 'art nouveau'-type numerals.
Queen Victoria died on Tuesday, 22 January 1901 at the age of 81 to be succeeded by her son and heir Edward VII. With a reign of 63 years, seven months and two days, Victoria was, until recently, the longest-reigning British monarch and the longest-reigning queen regnant in world history. (That is, until Thursday 22 October 2015 when Victoria's great-great granddaughter, Queen Elizabeth II, became the longest-lived and longest-reigning monarch of the United Kingdom.) The new century and a short-lived period which has come to be known as 'Edwardian' beckoned and the volcanic events of the 20th century followed. Chelsea House (Parr's Bank) was built at this important crossroads in history.
Parr's Bank Ltd
(1788-1918). This private bank was established in Winwick Street, Warrington, in 1788 as Parr & Co by Joseph Parr, sugar boiler, Thomas Lyon, brewer and sugar boiler, and Walter Kerfoot, attorney; it was also known as Warrington Bank. The bank was styled Parr, Lyon & Greenall from 1825 to 1851 and Parr, Lyon & Co from 1855 to 1865. Branches were opened in St Helens (1839) and Runcorn (1853). In 1865 the bank was reconstructed as a joint stock bank with limited liability, Parr's Banking Co Ltd. The partners in the old business were paid £100,000 and the paid-up capital of the new bank was £100,000. Joseph Parr's son Thomas Parr was appointed chairman and the bank recruited John Dun, from Bank of Scotland, as its first general manager. In 1877 a purpose-built banking house was opened in Winwick Street. The bank expanded by acquisition of many other banks from 1865 to 1915 including in 1909 Stuckey's Banking Co Ltd of Taunton (or the Somersetshire Bank), which "wielded great power in the west of England" and had the largest note circulation of any bank in England outside the Bank of England". In 1892 the bank became known as Parr's Banking Co & Alliance Bank Ltd. By 1890 it had 43 branches and sub-branches, rising to 136 in 1900 and to 329 by 1918. In 1896 the company's name was shortened to Parr's Bank Ltd. In 1918 Parr's Bank Ltd amalgamated with London County & Westminster Bank Ltd of London, to form London County Westminster & Parr's Bank Ltd. At that date 235 branches and 94 sub-branches were operating.
For other dated weather vanes see
Tolly Cobbold Brewery
and
St Lawrence Church
.
Britannic House 28 Princes Street