Ransomes' Orwell Works site



The car park which occupies the site between the eastern quays of the Wet Dock and Duke Street (south of the Neptune Marina block – see our Wet Dock map if you're confused) is apparently owned by University Campus Suffolk and in 2013 is on the back burner for further development of the university. This gives us the chance to see the remnants of the Ransome's Orwell Works: one of the greatest engineering works in Ipswich – if not Britain and beyond. Almost everything to be found is at ground level, visible amongst the uneven patchwork of concrete and asphalt.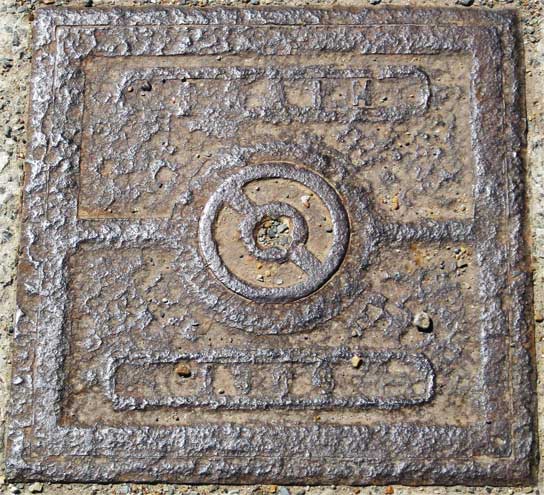 2013 images


Industrial archaeology is normally covered in some way, but the merest remnants of the Orwell Works are being walked and driven upon every day. Here is the only piece of historic lettering found:


'DRAIN

1308'

It was certainly tempting to think that the bottom number was a date (1908), but close inspection shows the '3' pretty clearly (see close-ups below).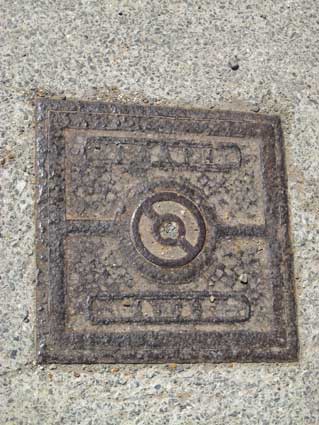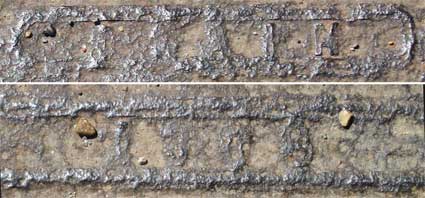 Sections of end-grain wood block flooring.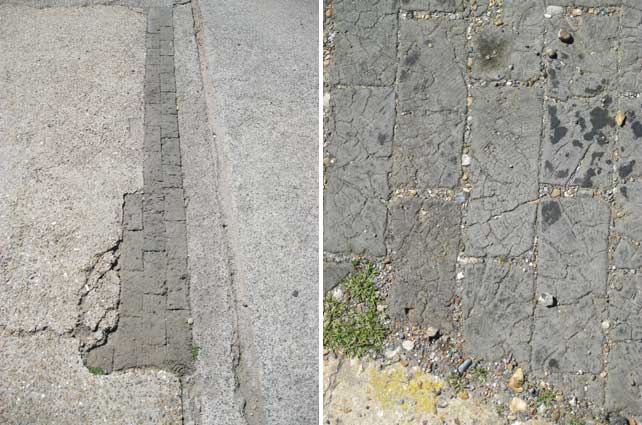 Distressed internal wall of the Ransome works. A thick steel sheet almost covering a man-hole.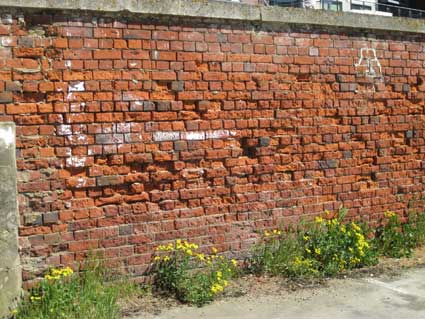 Clear evidence that the tramway came right inside the works. See the criss-crossing tramway lines preserved on the 'The island'. Many ground level features there, too.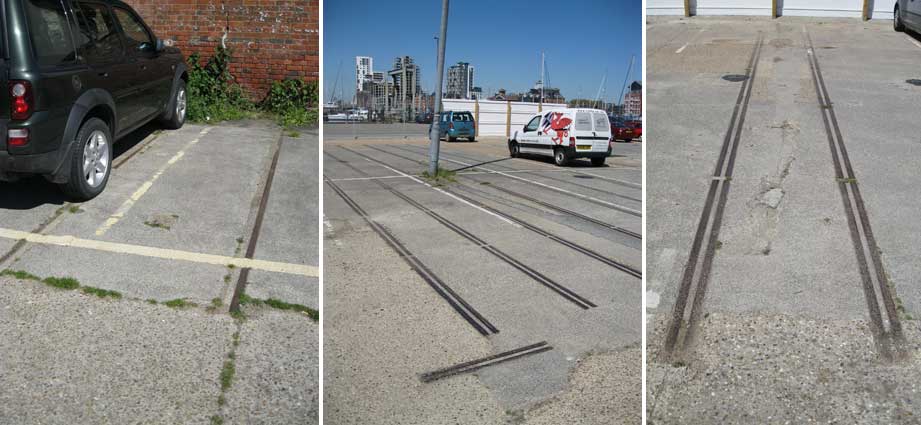 'I' and 'U' section iron girders set into the concrete, then later cut off at ground level.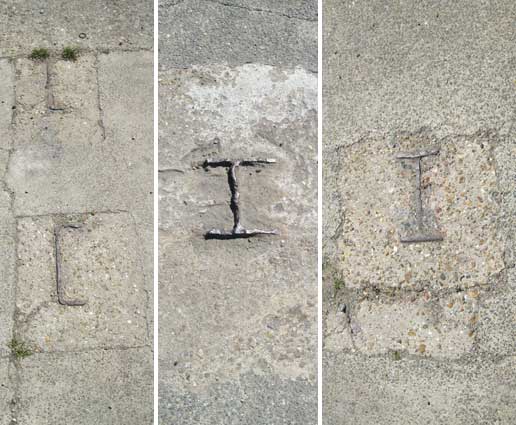 Traces of iron surrounds partially covered by patchwork concrete.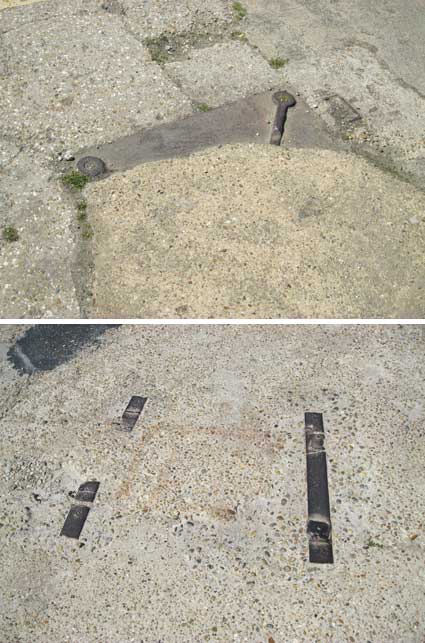 And what on earth is this rusting iron oblong on a chunk of crumbling concrete? Decorated with 'hi-viz' safety tape for the summer solstice. Probably.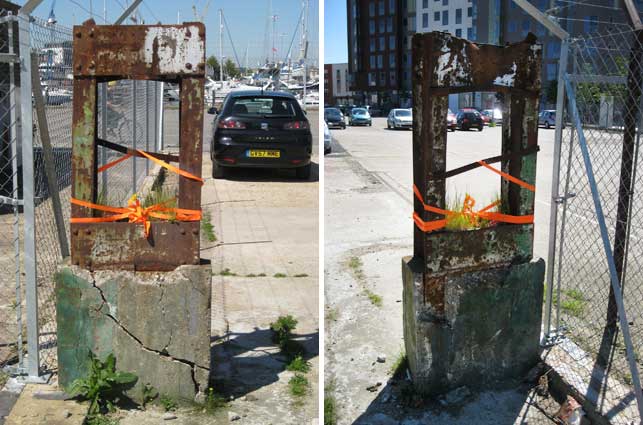 White's map of Ipswich 1867; the detail below shows the extent of the Ransomes Sims & Jefferies Orwell Works site at the height of the Industrial Revolution. The gasworks, site of today's Maude Street and Patteson Road, is south of Orwell Works. Interestingly, the dockside we now call Helena Road is a treed area labelled 'Marine Promenade East', while many people will know about the the tree-lined walk on the Island, south of the first lock (still in existence in 1867), here lebelled 'Marine Promenade West'.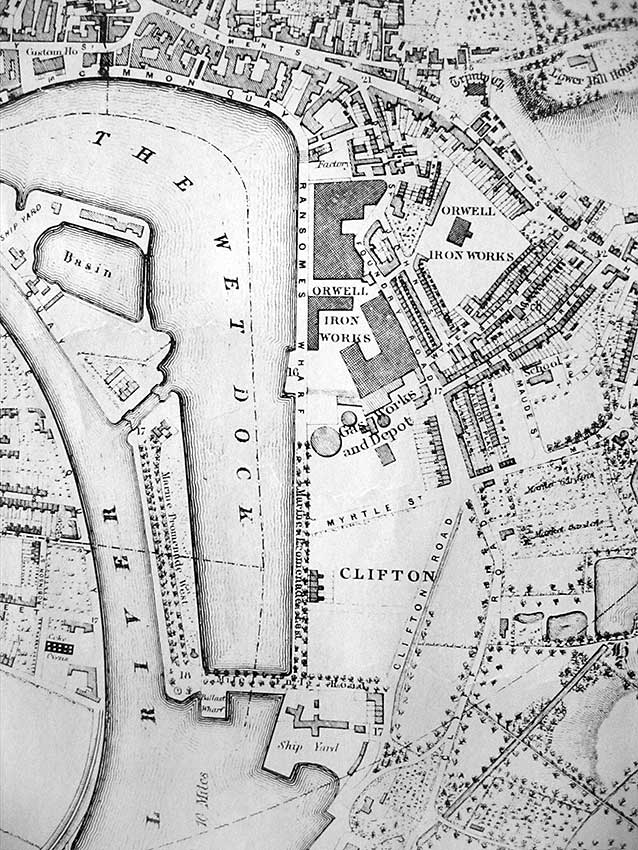 1867 map

The only other lettering connected to Ransome's is to be found not far away in Wykes Bishop Street.
See also a page containing images of Ransome & Rapier.
You can see more ground-level elements of maritime Ipswich on the northern quays page and on 'The island'.





Home

Please email any comments and contributions by clicking here.
©2004 Copyright throughout the Ipswich Historic Lettering site: Borin Van Loon
No reproduction of text or images without express written permission